by: Jeni Harris, team member on our Uganda Mission Trip in August 2016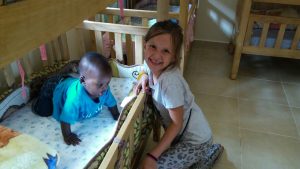 It's too expensive.  That's what some well meaning folks told me when I broke the news.  It is expensive indeed, but so is having a baby or driving a car, or buying groceries each week.  Is the cost of a mission trip a reasonable excuse not to go?  I can only say that for me it wasn't.  I may be very type B and naturally laid back, but trusting God with the finances of a mission trip was excruciating for me.  My daughter made and sold countless hair bows to raise her money.  We both sold eggs from our pet chickens. Then raccoons and stray dogs ate our chickens…how dare they!  And God still provided.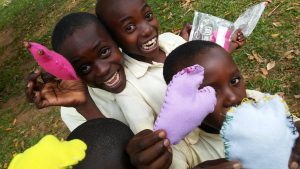 I don't have a useful skill.  I absolutely thought I didn't have a useful skill with which to help, to serve, to contribute.  Then during a teaching time at a baby home, where "other" team members were doing a prepared training…the nannies decided we needed to have some worship time first.  They insisted I lead us in worship! When 8 beautiful Ugandan nannies tell you to get up, you get up…and you sing…and they bring the beat…and you worship together, forgetting all about your embarrassment and inadequacy.  Before the trip, my precious 8 year old declared that she wanted to teach the orphans to sew.  I secretly thought that was a ridiculous idea, but I helped her make about 80 bead bracelet kits and little sewing kits…threaded needles and all.  One day our team was volunteering at an orphanage and there was a chunk of time to fill…and about 80 kids to hang out with….and we made bracelets and sewed little stuffed shapes!  How foolish I was to doubt my daughter's prompting…or that God knew what He was doing.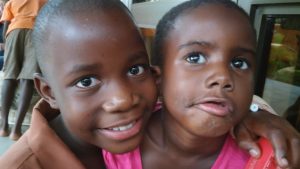 I might get sick.  When we arrived at our guest house in Uganda, it was late at night and we crashed like falling trees.  The next day, my daughter found some kids and started playing….of course.  I noticed that two small girls had little wraps around their wrists and what looked like IVs sticking out.  I found out that the sweet girls had malaria (super common) and that they were finishing up their IV treatment.  I was instantly guilty for complaining about the cost of our vaccinations! I can afford vaccinations.  Thank you Jesus. I still could have gotten sick…and I don't know what to say except it would have been worth it. I could get sick today, too.  Life is too short to be afraid.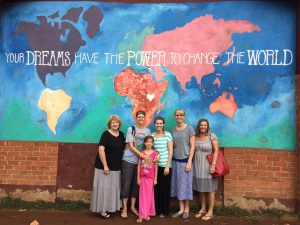 I don't need to go that far to serve.  Very true indeed.  Needs are all around us, and traveling internationally doesn't make you a better Christian; it doesn't erase all traces of smugness in one's life.  But if you "have" the opportunity (or rather "take" the opportunity) to volunteer in a developing country, you get a fast-track PhD in extreme poverty and how broken systems perpetuate poverty, and how beautiful the faithful followers of Jesus are in this context.  You just can't get that from a book, or sermon, or even a good movie.  It's nearly impossible to come back unchanged or not become a prayer warrior and advocate for the place you have been.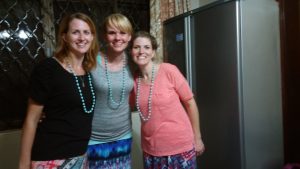 My life is too busy.  That's what I thought.  Then my husband said YES to me going, AND taking our 8 year-old, and even my mother!  Then I met team members Sara and Holly, whose husbands also said YES.  Between the 3 of us ladies, we have 11 children…all under the age of 9.  And we all home school our kids.  It made no practical sense for us mamas to peel ourselves off our lives…and jump on a plane.  But God made a way, and our crazy, busy lives were still waiting for us when we got home.  And we're busy again…but changed forever. Advocating in new ways. Praying for people with fervor.  Ready to go back and take our friends with us!
See more photos from our trip in our photo gallery of our team training firefighters, providing education on child developement to orphanage caregivers, delivering food/clothing to families in need, and volunteering with the child sponsorship program.