Orphan Care Projects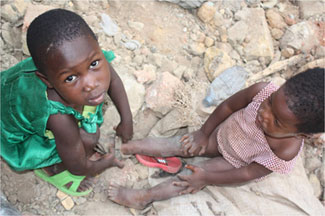 Below are current ways you can meet the practical needs of orphans and past projects. Support a specific orphan care opportunity with one of our trusted orphan care ministry partners – there are multiple opportunities to show your practical support by providing funds. Or contact us to find out how you can join a team of volunteers traveling to serve on a mission team or about a possible vision trip for your church. To learn more about our 2016 mission trip to Uganda click here.
Current Orphan Care Projects:
For Necessities for Orphans including special needs and HIV positive children who have been abandoned – nutritious meals, medication, infant formula, water, and supplies – Haiti, Uganda, and Cameroon
To Renovate and expand the pig "house" at the orphanage's Agricultural Skills Training Center in Uganda. This center includes training on green housing, farming, and the rearing of goats, poultry, and pigs.
To send a staff member, leading a team conducting specialized trainings equipping the caregivers in several orphanages in Uganda. The team of volunteers will teach, interact, and care for the children. Click here to learn more.
To bring the first medical clinic to a church plant in a remote village in Uganda (primarily widows and children). Funds will provide mobile clinic, equipment, immunizations, medicines, translators, etc.)
A Look at Past Orphan Care Projects:
Click here to watch a video of our 2012 mission trip.
Click here to watch a video of our 2015 mission trip.
Built grand stands at Bethany Childrens' Village in Uganda. The grandstands for our ministry partners in Uganda seat hundreds of children year-round from the church, school, orphanage, and community. The seating had become dilapidated and dangerous. Our Team members raised the funds to replace these and then helped tear them out and replace them.
Provided medicine and supplies for orphaned children and impoverished families
Provided diapers and formula to baby home in Uganda and Haiti
Provided backpacks and school supplies to children rescued from child slavery by a partner ministry in Ghana.
Sponsored 20 single moms and elderly widows/widowers through a self-sustaining program for one year in Uganda
"Pure and undefiled religion in the sight of our God and Father is this: to visit orphans and widows in their distress, and to keep oneself unstained by the world." James 1:27